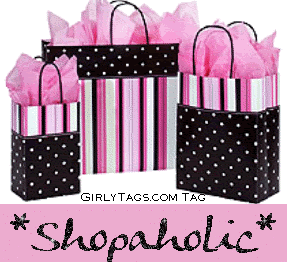 Hey Divas,
I've been blogging about how to reach diva status for a minute now, but I've never made any posts about clothes…and that's for a reason. I'm a recovering shopaholic, so it pains me to talk about clothes when I can't buy them. Luckily for me, the recession has officially cured me of my addiction. One of the reasons why I got into making videos o
n YouTube is because it occupied my time and gave me something else to focus on other than hanging out at the mall. I'm blessed because the debt I incurred at the height of my shopping addiction wasn't unmanageable to the point where I couldn't pay it off. Yet, it still prevented me from saving at a time when I really should have been saving, which is ALWAYS.
Ladies, I know us divas have to stay fitted, but we shouldn't do so at the expense of building wealth. Many of us fail to plan properly for a disaster, and this recession has indeed been a disaster for many. I personally know people who have lost their homes. At one point, I was afraid that my husband and I might fall into that category as well, but am now convinced that the Lord is going to see us through these hard financial times. We had to live off of our savings for the past eight months, so I can truly attest to the importance of saving. Had either of us been completely reckless with our money, there's no way we would have made it this far.
Thanks to all the prayers that we've been sending up over these past eight months, my husband and I are finally getting back on our feet. The job market may be tight, but when you have God on your side, He will always bring opportunities your way. Although I'm not at the point where I'm shopping again, I'm definitely thinking about it
. With summer approaching, I think about fashion even more, because that's when everyone is out and wants to be seen. I've therefore decided to make today's post all about fashion to gear up for the summer.
I gathered some cute items from various sites to show you ladies that you can still reach diva status without breaking the bank. For the most part, I like to shop at places that are affordable, and may throw an expensive item into the mix from time to time. I hope you'll find the following information insightful. So, without further ado, let's get on with the clothes!

XOXO,


DPrincess28